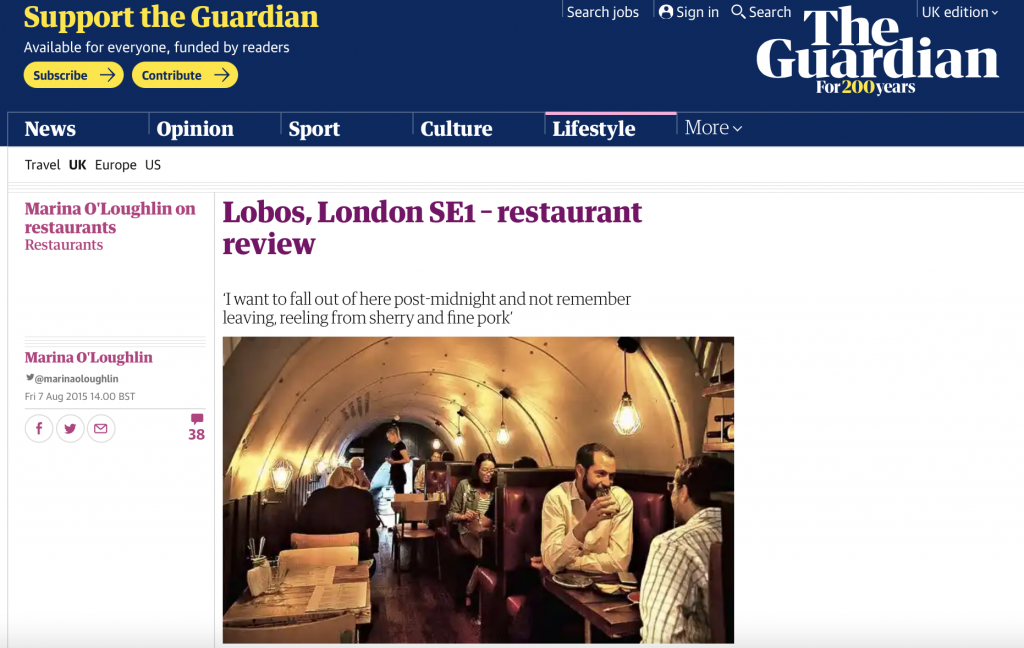 "I couldn't be more surprised at how much I like eccentric, dark, noisy Lobos. I want to fall out of here post-midnight and not remember leaving, reeling from sherry and fine pork (shame it closes at 11pm). It's a dive, sure. But it's a delicious one." – THE GUARDIAN

"Lobos's first love is prime cuts of Iberico pork, their speciality the soft, flavourful meat found between the shoulder and the loin. But good too are old favourites padron peppers and grilled octopus tentacles, shyly curled from the heat. They've lots of sherry; indulge, and feel that little closer to the seashore." – EVENING STANDARD

"Translating to 'wolves' in Spanish, Lobos is a carnivore's paradise. While classic tapas dishes such as padrón peppers are covered, Lobos' meat tapas gets its own section of the menu entirely, including Secreto Iberico (the 'hidden' cut of the Iberico pork, naturally fatty and full of flavour) and Chuletó, 600g of salt-sprinkled sirloin on the bone.
The ambiance is friendly and décor traditional – think lots of wood panelling, red walls and washing your hands in a wine barrel sink." – ELLE UK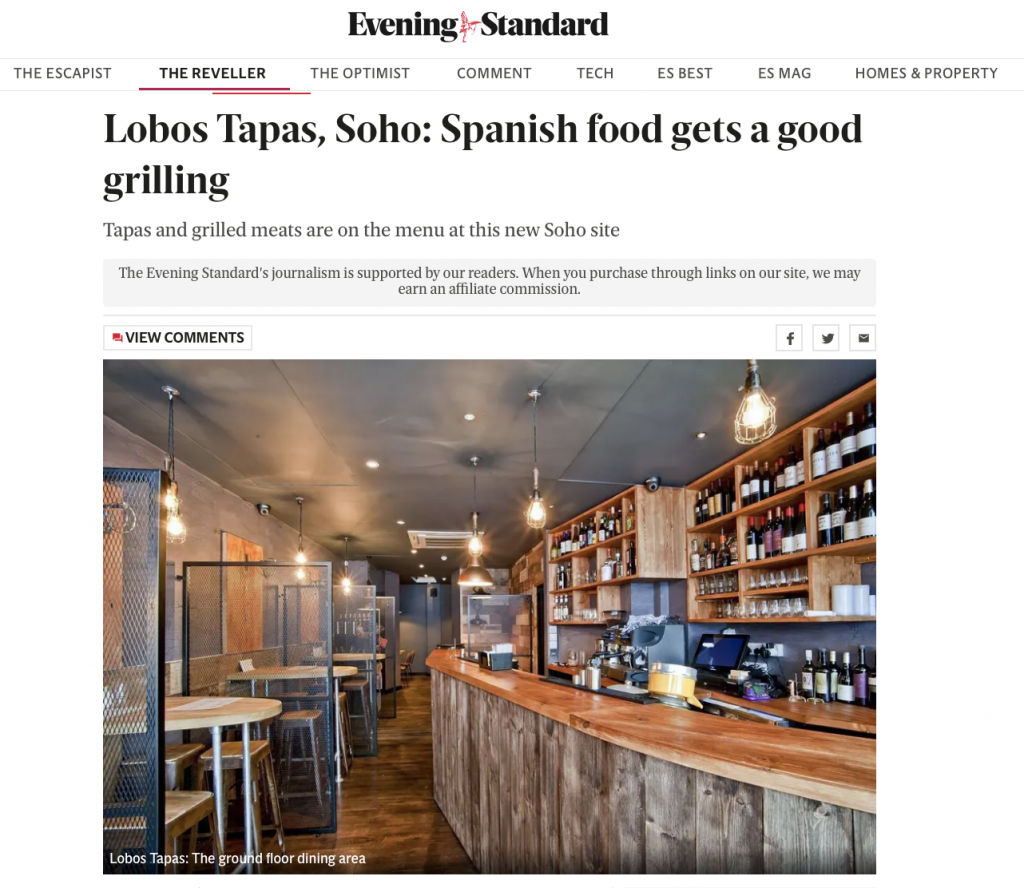 "The menu is a tantalising mix of tapas classics — croquetas, garlic prawns, padron peppers — and larger plates of grilled meat and fish.
It's these grilled dishes which are among the biggest highlights. A whole, smoky-flavoured and succulently tender grilled octopus leg with rounds of sweet potato and chunks of chorizo steals the show, while slices of rare picanha beef steak — similar to rump — which come with a herb and breadcrumb-encrusted marrow bone is a close runner-up.
Also among the stars of the show is a pan con tomate that's generously loadd and imbued with a deliciously peppery olive oil, and piquant fresh white anchovy fillets.
Cured meat selections don't disappoint, while croquetas are admirably crunchy with gooey centres.
Those who love the unique cave-like space of the Borough site, where diners are wrapped in a corrugated metal cocoon, might find the new site less immediately atmospheric, but tip-top tapas is nothing if not convivial and Lobos know well how to serve up good social vibes by the spade-load. The well-priced all-Spanish list of cavas, wine and sherry does its bit, too." – EVENING STANDARD